One of Williamsburg's Favorite Restaurants
Since 1977, Paul's Deli and College Delly have been family owned and operated. We dedicate our time and energy to a quality dining experience in and outside the restaurant with great food and quality service. The College Delly offers an impressive menu, a full bar and patio seating to boot. Invite some friends and enjoy the breeze with a great view of the College of William & Mary campus. Click through the gallery below to get a feel for the College Delly family style.
Great Food Every Single Day
Enjoy a variety of sandwiches, pasta dishes, seafood entrées and much much more. Like all the food on our menu, portions are ridiculous and the prices are unbeatable. Bring your family or a friend in today for a meal you won't forget! Looking for a recommendation? Go for our famous Hot Holly!
Check Out Our Menu
Let Us Cater Your Event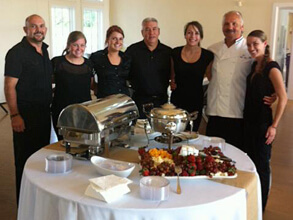 We cater private events of all sizes. From weddings to special events and office parties to formal luncheons, you name it, we cater it. Contact us to plan your event and customize a full menu of delectable dishes that are sure to impress your guests. The options are endless.  College Delly Caters!
See Our Catering Menu
★★★★★

VERY GOOD!!! This is the best place to eat in town very queen food. If you Are going to a different eatery come to this eatery do not to no other restaurant come here go there now
★★★★★

Food was great, portions were huge. Waiters/ waitresses were super friendly! I will definitely be stopping by here every time I'm in Williamsburg.
★★★★★

My husband and I took a trip to Colonial Williamsburg and this was one of the places that he has wanted to eat at for years, so we had dinner there and believe me, it didn't disappoint! We ordered cheese fries and a pepperoni stromboli to shar…
★★★★★

I have been a patron of this place for almost 40 years. I went to school at W&M and have enjoyed over 500 meals here over the years. Get a Hot Holly!!! also a favorite of The Daily Show's Jon Stewart-Class of '84.
★★★★★

This was the first time I have visited the College Delly in quite a few years. (over 5 at least). There were five of us for lunch. Several ordered the Steak and Cheese sub. Others had the reuben, a veggie burrito and the crabcake sandwich. We …
Read More Reviews